Walmart, who pays its workers so little and/or gives them so few hours, that they cannot feed themselves while the Walton family rakes in billions, does have its sense of humor. Either that or they could just care so little about what anyone thinks that they are just like, whatever, what are you going to do about it anyway except buy more junk you don't need from us on Black Friday?


As it did to national scorn last Thanksgiving, Walmart raised a smiley-faced middle finger to its own "associates" by asking some of them to dig deep into their low-wage pockets to give to each other. An Oklahoma City Walmart is asking employees to donate food to help their coworkers make ends meet during the holiday season, according to a photo posted by the labor-backed coalition Making Change At Walmart. A sign on the collection bin reads, "Let's succeed by donating to associates in need!!!" In 2013, the same thing happened at a Walmart store in Canton, Ohio.
Technically,the food drives are not Walmart corporate policy, so hey, all is forgiven, amiright? Though hey, a Walmart spokesperson did characterize the Ohio effort as "part of the company's culture to rally around associates and take care of them when they face extreme hardships." And Walmart checked, 'cause it cares you know, and the Oklahoma food drive is just for two associates who don't have health insurance because Walmart doesn't provide any to its hourly workers, so it is not like the whole freaking store is starving or anything. You can have it both ways apparently at Walmart.


And who wants to subsidize freeloaders with our hard-earned tax dollars anyway? Oh, wait. Actually Walmart hauls in a monster truck load of public assistance for itself. Those low, low daily wages are subsidized by your taxes. The company's low wages leave huge numbers of its employees on public assistance programs such as food stamps and Medicaid. By one estimate, a single Walmart superstore requires up to $1.7 million in public assistance spending every year. The company eats up a total public assistance cost of $6.2 billion per year. That's how Walmart can "afford" to pay its associates so little and yet they don't pass out from hunger in the aisles during your Black Friday orgy of consumerism. Neat!


But Walmart loves its food stamps as more than just fodder to feed the work animals. Walmart loves selling to stuff to the food stamp people of America. A lot of stuff.
How much profit does Walmart make from public assistance? In one year, nine Walmart Supercenters in Massachusetts received more than $33 million in SNAP dollars. In two years, Walmart received about half of the one billion dollars in SNAP expenditures in Oklahoma. Overall, 18 percent of all food benefits money is spent at Walmart. That's about $14 billion.


But maybe all is not lost. Protesters left a huge food bin outside of Walmart heiress Alice Walton's $25 million Manhattan condo. Alice has a net worth of $35 billion dollars. Alice made $100 million this past year, so at least she is doing OK this Thanksgiving.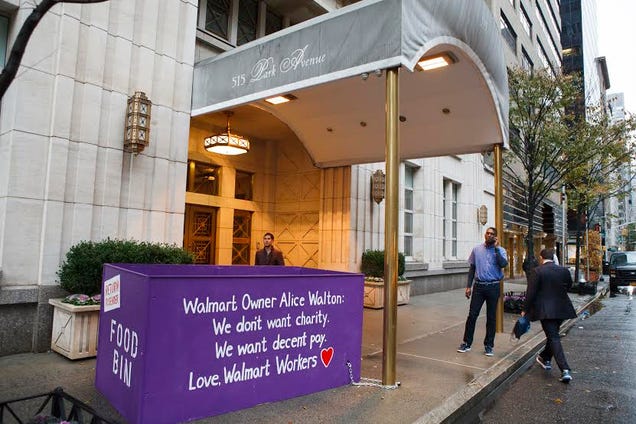 It can't get any plainer than this friends: Walmart's owners make profits on an amazing scale by giving workers as little as possible while scooping up as much government money as possible.
Do your soul a favor and stay out of Walmart this holiday season.




Copyright © 2020. All rights reserved. The views expressed here are solely those of the author(s) in their private capacity.